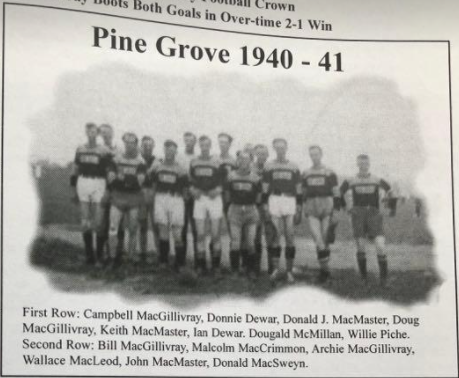 The Battle of the century was fought out at Laggan last Saturday afternoon. The Ottawa United came down fully staffed for the second game in the Eastern Ontario Championship Series and Pine Grove was in mid-season form. Both were determined to win. The result – a ninety minute drilling, well-played, ding-dong struggle with the decision in doubt until the final minute of play, when Pine Grove exerting that little superiority that was theirs maneuvered the ball into a position where Dougal MacGillivray drove it through the uprights for the winning counter and the game and series were theirs by the score of 2-1 and 4-3 respectively.
So well done Pine Grove! You are worthy champions. I is not just by luck that you are where you are. A team that can play 34 consecutive games during two seasons; play without a defeat must have something of what it takes , and you have – so well done again, Pine Grove.
The game was supposed to be a 70 minute affair with two thirty-five minute periods. At the end of that time the stood 1-1. Carl Strike had scored for Ottawa on a penalty shot in the first period, and Dougal MacGillivray did like-wise for Pine Grove in the second to even it up. Although no other scores resulted, both goalers were called upon to make several hard saves – and often play milled around their door step and anything could have happened.